Bad Bunny is the Grammy Award-winning artist behind Un Verano Sin Ti, even opening the 2023 award ceremony. Here's what we know about his performance of "El Apagón" and "Después de la Playa."
Bad Bunny won the Grammy Award for Best Música Urbana Album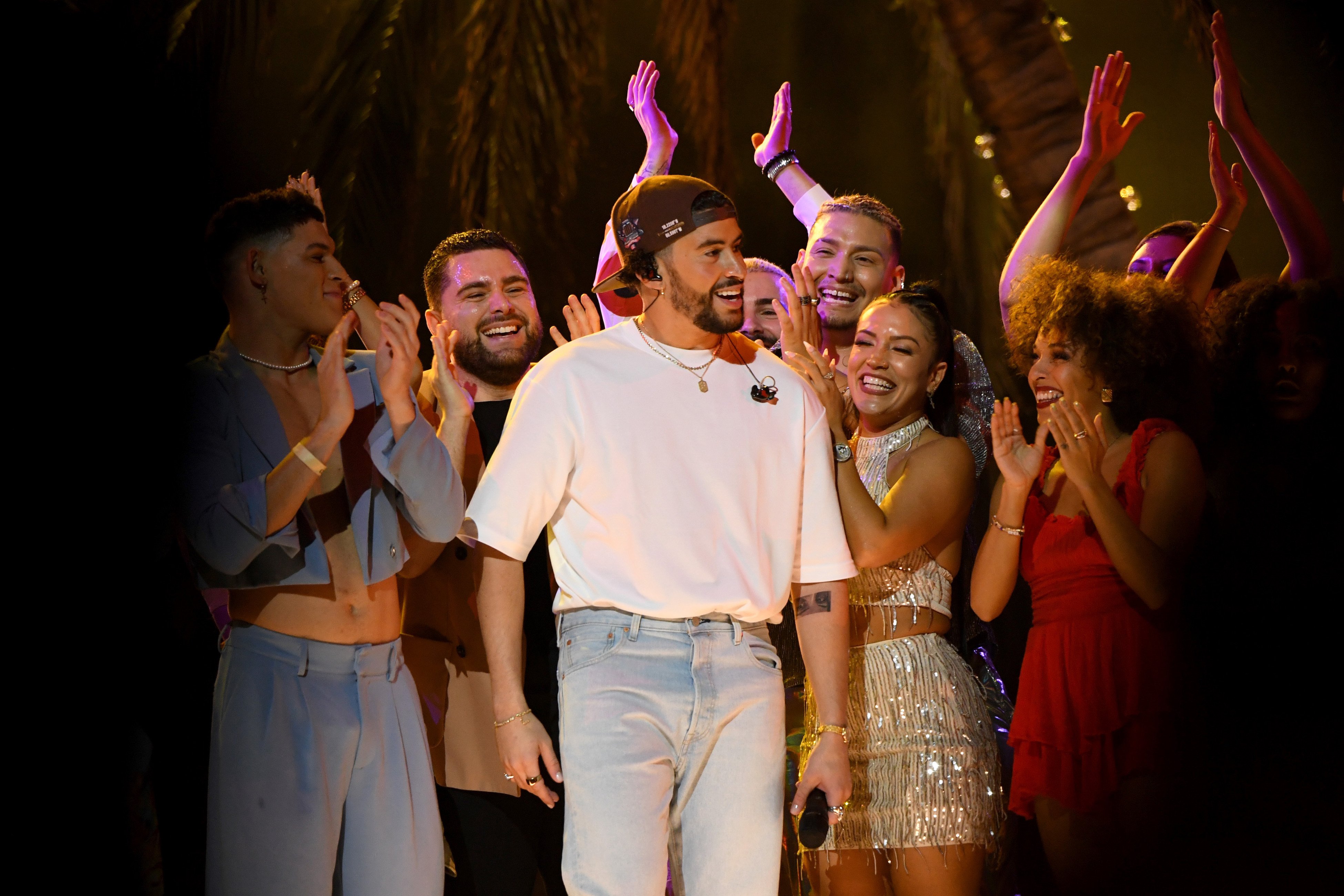 Bad Bunny made history at the Grammys with his Album of the Year nomination, becoming the first artist with a Spanish-language album to be nominated in this category. Although he did not take home the award, he did snag the Grammy Award for Best Música Urbana Album.
"It was easy," Bad Bunny said in his acceptance speech. "I just made this album with love and passion, and when you do things with love and passion everything is easier." 
This win was thanks to the 2022 release Un Verano Sin Ti, complete with original tracks "Titi Me Preguntó," "Me Porto Bonito," and "Después de la Playa." The artist even opened the 2023 award ceremony – complete with a summer-y stage, dancers, and a full band.
Bad Bunny performed 'El Apagón' and 'Después de la Playa' at the 2023 Grammy Awards
Bad Bunny, real name Benito Antonio Martínez Ocasio, is proud of his Puerto Rican roots. In 2022, the artist performed a free concert for Puerto Rican fans on top of a gas station. In 2023, he highlighted his hometown appreciation by performing "El Apagón" at the Grammy Awards. 
This was a particularly noteworthy performance for the Latino community, with the artist singing, "ahora todos quieren ser latinos pero les falta sazón" ("now everyone wants to be Latino, but they lack seasoning") in front of other nominees. 
After highlighting part of "El Apagón," Bad Bunny broke into a rendition of "Después de la Playa" — one of the most popular songs from Un Verano Sin Ti. Other artists in the audience began dancing, including Midnights songwriter Taylor Swift.
Why 'El Apagón' is so significant for Bad Bunny's Puerto Rican fans
Bad Bunny's Un Verano Sin Ti included "El Apagón" — complete with lyrics describing Puerto Rico as the birthplace of reggaeton the "Land of Maelo and Tego Calderón." The title itself translates to "the Blackout," referencing Puerto Rico's power outages in recent years.
As noted by NBC News, "El Apagón" "resonates with residents who have been grappling with an aging and deteriorating power grid," even before Hurricanes Maria and Fiona. 
"What belongs to me, they'll keep it to themselves," the outro states, according to the Genius translation. "Let them go / This is my beach, this is my sun / This is my land, this is me / This is my beach, this is my sun / This is my land, this is me."
Bad Bunny made history with the upcoming Coachella Valley Music and Arts Festival, headlining the 3-day event along with BLACKPINK and Frank Ocean. In the meantime, music by Bad Bunny is available on most major streaming platforms. 
Source link