YOKOTA AIR BASE, Japan — Get ready to tap your toes and clap your hands — students from Department of Defense Education Activity schools in Japan are showcasing their musical talents Friday at the Jazz and Modern Music Festival. 
Fifty-six music students from schools across the country have been practicing all week at the Taiyo Community Center at Yokota Air Base in western Tokyo for a concert 7 p.m. Friday in the Yokota High School cafeteria.
The music festival is returning after a two-year hiatus due to the COVID-19 pandemic.
"Coming out of the pandemic and things loosening up a little bit, it's nice that students get to travel and perform with their peers from other schools and get to meet different students, different conductors, and experience a different set of scenery," jazz band conductor Jonathan T. Parker told Stars and Stripes on Wednesday.
Each student earned their place on the music festival stage through an audition process, Kayla Nash, events director and music teacher at Zama Middle School at Camp Zama, the headquarters of U.S. Army Japan, told Stars and Stripes on Tuesday.
"Those (auditions) were very competitive," Nash said. "For the 56 kids we had come here we had 180 auditions submitted. So, the audience is getting to see a very select group of kids who are doing awesome things."
Each auditioning student received a short music selection to perform and record for a panel of music teachers in DODEA schools across Japan.
"I was at a tennis trip in Sasebo and when I found out I was chosen and was pretty excited and looking forward to going," said Noah Kruse, 16, junior at Nile C. Kinnick High School at Yokosuka Naval Base. Kruse, originally of Monterey, Calif., sings bass in the jazz choir.
"I think it was cool getting to meet some more male vocalists because male vocalists aren't as common, especially in high school," Kruse said.
During the week, the 56 perfected a songbook of jazz and modern music for the capstone performance. The festival encompasses three music genres: jazz choir, jazz band and garage band.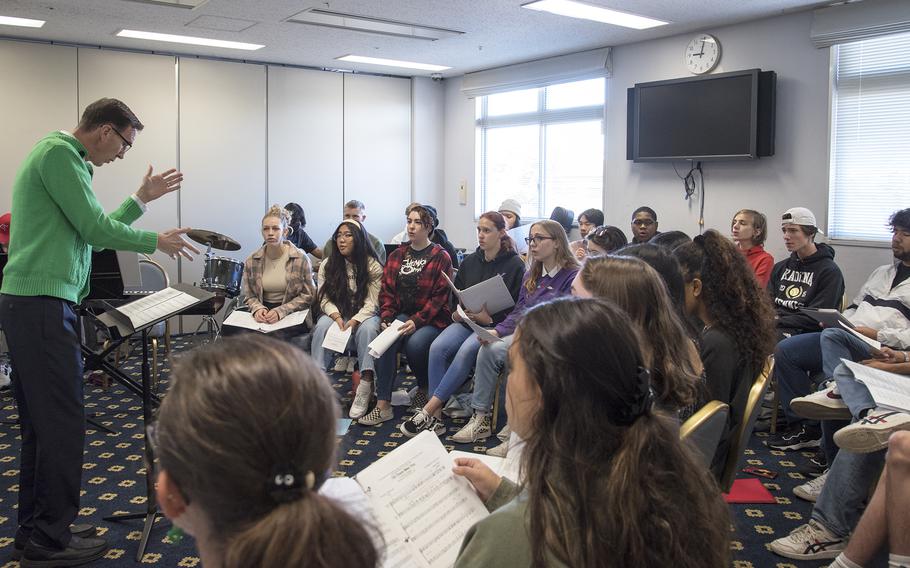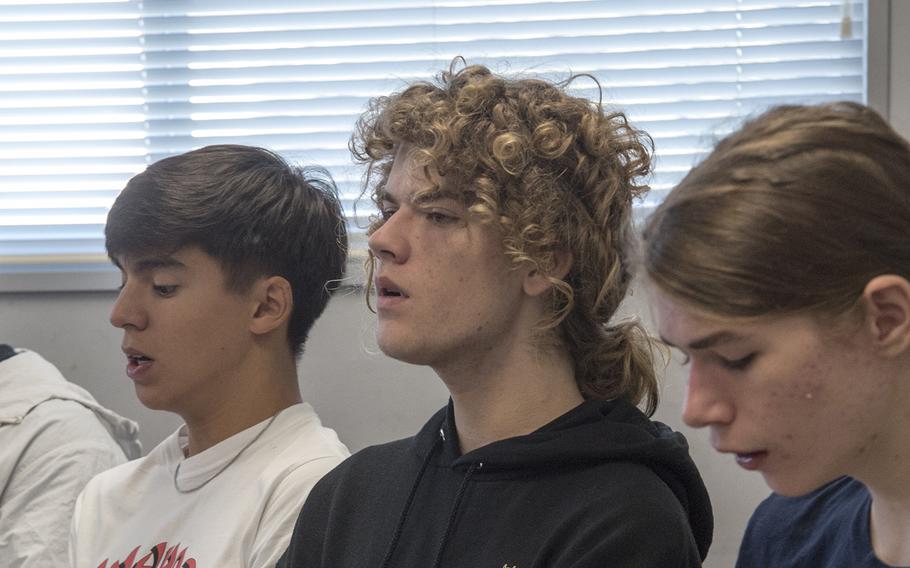 'Truly American art'
The jazz choir — 24 vocalists and a backing band — prepared two selections from the canon of American popular music: "Till There Was You" from the musical, "The Music Man," and "Blue Moon," a ballad by Richard Rogers and Lorenz Hart
DODEA schools don't typically have a program in jazz choir, Scott Morrise, jazz choir instructor and music teacher at Sollars Elementary School, Misawa Air Base, said Wednesday.
"This is a chance for like-minded students to get together who are interested in music and be exposed to this truly American art," Morrise, of Roy, Utah, said.
The six-piece jazz band is performing tunes from celebrated composers, including Duke Ellington and Count Basie.
Parker, the conductor, has been playing bass since 1969, he said. As an instrumental music teacher at Kinnick High, he's teaching a whole new generation about the American style of music known as jazz, he said.
The band members have had their music for weeks, so they are perfecting their style, musical concepts and the art of each piece, he said.
"The big band this year has done a great job coming into the festival with what I'd like to call 'the stuff:' the notes, the rhythms, having their music, having their instruments ready to go," Parker, of Harlem, N.Y., said. "That's really good because if 'the stuff' isn't taken care of, it makes the art hard to do."
Vincent Lin, 15, a Kinnick sophomore originally from San Diego, is a pianist with the band.
"What Did I Say," by Ray Charles, which Lin will play with the band on Friday, is a personal favorite, he said.
The garage band, Ultraviolet, is composed of three guitar players, a drummer, a keyboardist and two vocalists from different schools.
Unlike the jazz performers, Ultraviolet selected its own music for Friday's performance: "Don't Stop Me Now" by "Queen" and "Forget You" by Cee Lo Green. Plus, the band must compose an original piece of music to play that night, said Melinda Rinngold, a music teacher at Kadena High School at Kadena Air Base on Okinawa.
"This honestly shows the talent that they have, that they have the ability to put together an original song," Rinngold, of Las Vegas, said.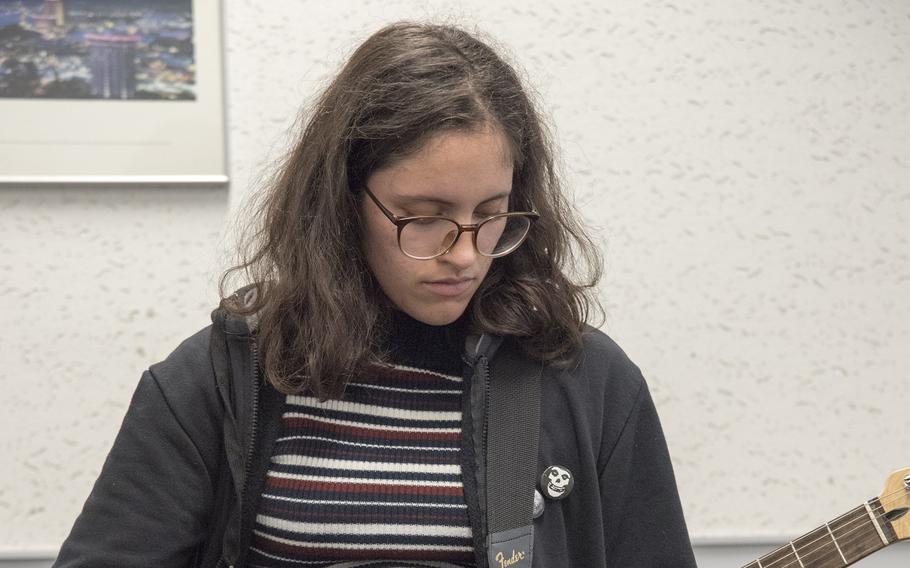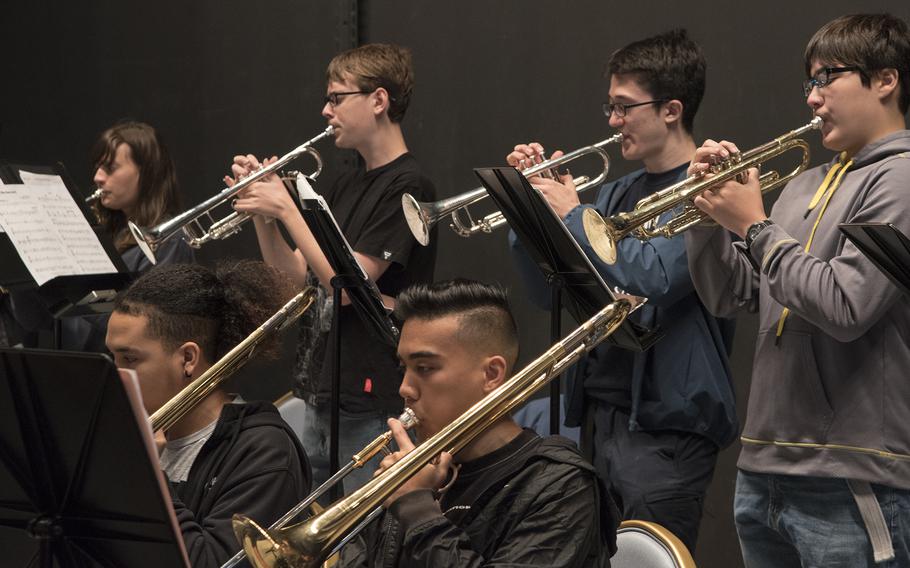 Daniela Reyes, 18, of Kettleburg, Fla., a senior at Zama High, plays rhythm guitar. This is her second year in the band; she first participated as a freshman on Guam.
Reyes, who is quiet and keeps to herself, said music is something that helps her make new friends and communicate.
"I feel like music talks for me, so I don't have to," she said.
Source link