In any other season in their seven-year history, the Tucson Roadrunners' regular season would, more or less, be over by now.
And, considering the position the Roadrunners find themselves in — through 68 games, they're four points up on the San Jose Barracuda for the Pacific Division's final playoff spot entering the weekend — Tucson would be securely, if not comfortably, seated in those playoffs.
Sixty-eight games used to be the standard for the AHL's westernmost teams. But now it's 72, meaning that despite that four-point cushion, Tucson still has work to do.
That starts Friday at 7 p.m. against the Central Division-leading Texas Stars at Tucson Arena.
When the AHL expanded west prior to the 2016-17 season, dropping franchises in Southern Arizona, up and down California, then Colorado and more recently Nevada and British Columbia, those teams all played 68 games while the rest of the league had upward of 76 on their schedules.
A litany of reasons existed as to why that imbalanced schedule existed; one was that it was the simply a desire of those westernmost teams' owners — many were and still are owned by the NHL's left-coast franchises — to have a shorter schedule.
But for this season, the league agreed on a compromise: no more 76-game schedules; no more at 68. Everyone at 72.
So the Roadrunners, who in any other year would already be playoff-bound, are still working to solidify that playoff spot. And, conveniently enough, those same Barracuda who sit four points behind Tucson entering the weekend are at Tucson Arena for both teams' regular-season finales next weekend.
What should they wear to Coachella? (Wait, what?)
Maybe it will all be part of some hipster or Zoomer trivia question in the coming years: "So we went to a music festival, and a hockey game broke out" — or some variation of that.
And the Roadrunners might just be in the middle of it.
It's said nearly 125,000 people attended each of the six days of the 2022 Coachella Valley Music and Arts Festival. Festival goers, as they do every year, will again pack Southern California's Palm Desert region (and jam up Interstate 10 east of Los Angeles in the process) for the Instagram-worthy event that runs April 14-16 and April 21-23.
As the AHL playoff picture sits right now, the seventh-place Roadrunners are slated to play the second-place Coachella Valley Firebirds in a best-of-3 series likely somewhere between April 18 and 22. All three games would be at the Firebirds' brand-new, I-10-adjacent facility, the 9,900-seat Acrisure Arena.
A fair warning to Roadrunners fans who want to get out of town for a few days and thought some hockey near Palm Springs might just be the ticket: Hotels in the area are asking for a pretty penny as the festival (and playoff hockey, of course) nears.
A Motel 6 off I-10 roughly 2 miles from the arena is going for $305 a night. A Days Inn 7 miles from the arena: $318. And the four-star-and-up joints only get progressively higher.
That begged the question this week: What about the Roadrunners themselves?
When asked what the team would do if it ran into trouble finding hotels — let alone affordably priced options — in the region, Roadrunners' officials said the cost won't be an issue, adding that they'd find the "best option" to give the team the "best chance to be in a comfortable spot" as Tucson tries to upset the host Firebirds.
Reinforcements (including Prosvetov) on the way? 
Before any talk of departing for a playoff run, the Roadrunners are surely intent on hunkering down against Texas and San Jose these next two weekends.
But it's possible, if not likely, Tucson will have some reinforcements on the way.
As has happened in years past, while the Arizona Coyotes wrap up their schedule already eliminated from playoff contention, some players eligible to return to Tucson might be sent back to the Roadrunners to help the AHL club's playoff chances.
This year, four players appear possible to fit that bill: longtime Tucson goaltender Ivan Prosvetov, defenseman Victor Soderstrom and forwards Milos Keleman and Laurent Dauphin.
Prosvetov is the most likely to be in Tucson at some point over these two weekends. After going 3-0 and not allowing more than two goals in his first three NHL appearances since an early-March call-up, Prosvetov has had a rough go of it. He's allowed seven and eight goals in his last two starts. Considering the Coyotes have two goalies on the roster (Karel Vejmelka and Connor Ingram), Prosvetov starting fresh for a team that needs him might just work out for all parties.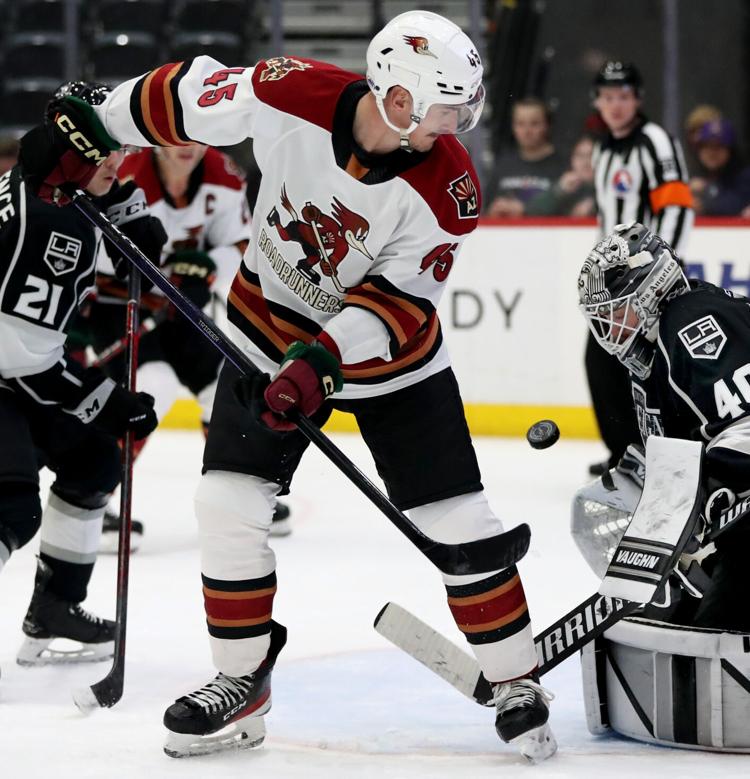 The Roadrunners could use him, too. While Tyler Parks and David Tendeck have performed admirably in net at times, things have become shaky of late with Parks giving up four or more goals in three of his last five starts and five of nine since March 11. That included giving up four in the first period Wednesday at Henderson as Tucson fell behind 4-1.
Tendeck relieved Parks to start the second and stopped all 19 shots he faced in the second, third and overtime periods as the Roadrunners mounted a comeback before losing in a shootout. But Tendeck was a key to Tucson gaining a much-needed standings point for going past regulation.
Dauphin has 41 points in 48 games for Tucson this year and has been with the Coyotes since late February, seeing action in 15 games without registering a point. Keleman has gone back and forth between Tucson and Tempe over the last month but has been a mainstay for the Coyotes for the last two weeks or so, scoring his first NHL goal on April 1. Soderstrom has been a mainstay with the Coyotes since Feb. 11 but also should be eligible to return.
Whether all or some do come back is to be determined, but in past years, players such as Conor Garland have trekked back to Tucson after long stings with the Coyotes only to become key players for a Roadrunners playoff push.
Contact Brett Fera at bfera@tucson.com. On Twitter: @brettfera
Source link