From Rage Against the Machine's first show back in 2007 to Refused and At the Drive-In in 2012 to Guns N' Roses' reunion with Slash and Duff McKagan in 2016, Coachella has been home to blockbuster reunion shows. That well seemed to dry up in the years before the pandemic, but Blink-182's last-minute inclusion to Day 1 featuring Tom DeLonge on guitar for the first time since 2014 brought the festival back to its roots.
Blink easily had the largest non-headliner crowd of the day, the mob spilled out from under the Sahara tent to nearly past the Ferris Wheel. Trust us when we say it was tough to get a close view of the stage.
Since Tom DeLonge's acrimonious departure at the beginning of 2015 to pursue his various other interests, the trio never felt quite at home without one another. DeLonge was active with Angels & Airwaves, along with his To the Stars company, while Mark Hoppus and Travis Barker kept Blink going with Matt Skiba replacing DeLonge. Barker also started his own label and worked with the likes of Machine Gun Kelly, WILLOW, Avril Lavigne and more. Hoppus battled cancer in 2021 (and declared cancer-free in 2022) and worked with his own artists.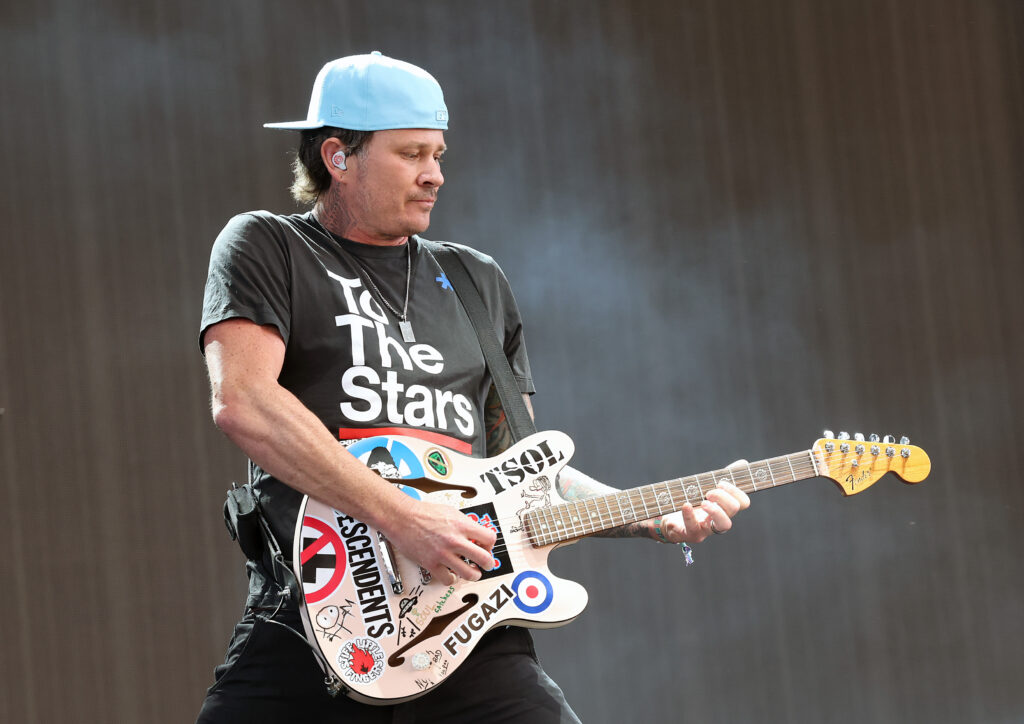 The nine years apart was unnoticeable and the trio's chemistry was instant.  That's partially due to the band's lengthy ramp-up (they'd been plotting this reunion for some time), however, there's a big difference between jamming together, hanging and working on new music and performing in front of tens of thousands of people for its first show. There was no secret club warm-up, and it was a welcome return.
Opening up with "Family Reunion" and "Anthem, Pt 2," DeLonge and Hoppus instantly snapped back to their old days.
"Hi, we're Blink-182," Hoppus told the approving crowd after the first two songs. He went on to crack a joke about UTIs before saying that "The boys are back." And were they ever. For about a fifth of the set, Hoppus and DeLonge traded jokes with one another about the Dalai Lama. They quipped about not being canceled and yes, made genital jokes several times during their hour-long set.
Blink was so relaxed on stage that Hoppus didn't have to coax a "Hi" out of the usually quiet drummer Travis Barker. After Barker greeted the crowd, Hoppus said that wouldn't have happened at U.K.'s Reading Festival.
The band also debuted its first reunion single, "Edging," in addition to plowing through its greatest hits. As they closed with "All the Small Things" and "Dammit" tagged with "No Scrubs," Blink accomplished one of the rare things at a modern-era Coachella: uniting the newer Coachella fans with the classic Coachella attendees. With the anticipation for its first reunion (and first Coachella appearance) show high (especially after having to cancel shows due to Barker's broken finger), Blink managed to exceed all expectations. Tell that to those three kids who helped transformed Warped Tour.
Blink-182 Set List:
Family Reunion
Anthem, Pt. 2
The Rock Show
Man Overboard
Feeling This
Reckless Abandon
Dysentery Gary
What's My Age Again?
Edging
Dumpweed
Aliens Exist
First Date
Don't Leave Me
Down
Happy Holidays, You Bastard
I Miss You
All the Small Things
Dammit / No Scrubs