[ad_1]
When Willie Nelson finally acknowledged his 90th birthday on stage last night (April 29) near the end of a massive tribute concert at Los Angeles' Hollywood Bowl, it was with his trademark understatement and wit. "Thanks for whatever we're celebrating," he quipped as if the occasion was just another normal day in his remarkable life. The sold-out crowd then took the opportunity to officially sing "Happy Birthday" to the legend and help cap the first of two superstar-studded events dubbed Long Story Short honoring his utterly unique life in music.
Nelson may have been playing it cool, but at 90, his tireless work ethic and profound impact on other musicians is largely without peer. That helps explain the eclectic blend of friends, family, and admirers on hand last night, including rising bluegrass star Billy Strings (who opened the show with "Whiskey River"), Snoop Dogg, the Chicks, Tom Jones, Ziggy Marley, Neil Young, Kris Kristofferson, Beck, Norah Jones, Miranda Lambert, Leon Bridges, Bob Weir, Tyler Childers and George Strait. A number of Nelson's Hollywood pals were also on hand to introduce segments, including Owen Wilson, Ethan Hawke, Jennifer Garner, and Helen Mirren.
Indeed, the simple allure of paying tribute to Nelson is what brought all these stars and more to Los Angeles, recalling a similar multi-generational celebration for Bob Dylan's 30th anniversary as a recording artist way back in 1992 at New York's Madison Square Garden (Nelson performed at that event as well).
The Abbott, Tx., native has always done things his way, which set the tone for a series of funny anecdotes about his love of poker and marijuana. Ahead of his performance of "Willie Got Me Stoned," Jack Johnson shared how the wily Nelson actually did what the song title suggested … and took all of his poker money in the process. Johnson's wink-wink comment about how everyone was having fun backstage also neatly summed up the spirit of the concert.
Nelson has written some of his own best-loved material, but his talent as an interpreter of other people's songs was just as much at the heart of Long Story Short. This duality has helped decades-old material such as "Always on My Mind" (tackled by Chris Stapleton), the Monday Night Football-popularized "The Party's Over" (performed by Charley Crockett), "I Can Get Off on You" (sung by Margo Price and Nathaniel Rateliff), and even "Mammas Don't Let Your Babies Grow Up To Be Cowboys" (covered by Lambert) remain so relatable after all these years.
The performers only grew in stature as the show progressed, as did their acknowledgments of Nelson's influence on them. Before Sturgill Simpson's version of "I'd Have To Be Crazy," he said only an occasion such as this would cause him to be anywhere other than "on a beach in Southeast Asia." He added that his entire motivation for moving to Nashville in the first place and eventually signing with Atlantic Records was because Nelson had done both things first.
Making only his second official live performance since the start of the COVID-19 pandemic, Nelson's longtime Farm Aid partner Young was a clear highlight of the show. Backed by Promise of the Real, the band featuring Nelson's sons Lukas and Micah, as well as his Buffalo Springfield/CSNY bandmate Stephen Stills, Young was afforded the most songs (three) of any performer and put them to good use: the fitting "Long May You Run," Buffalo Springfield's "For What It's Worth," and "Are There Any More Real Cowboys?" featuring the birthday boy himself.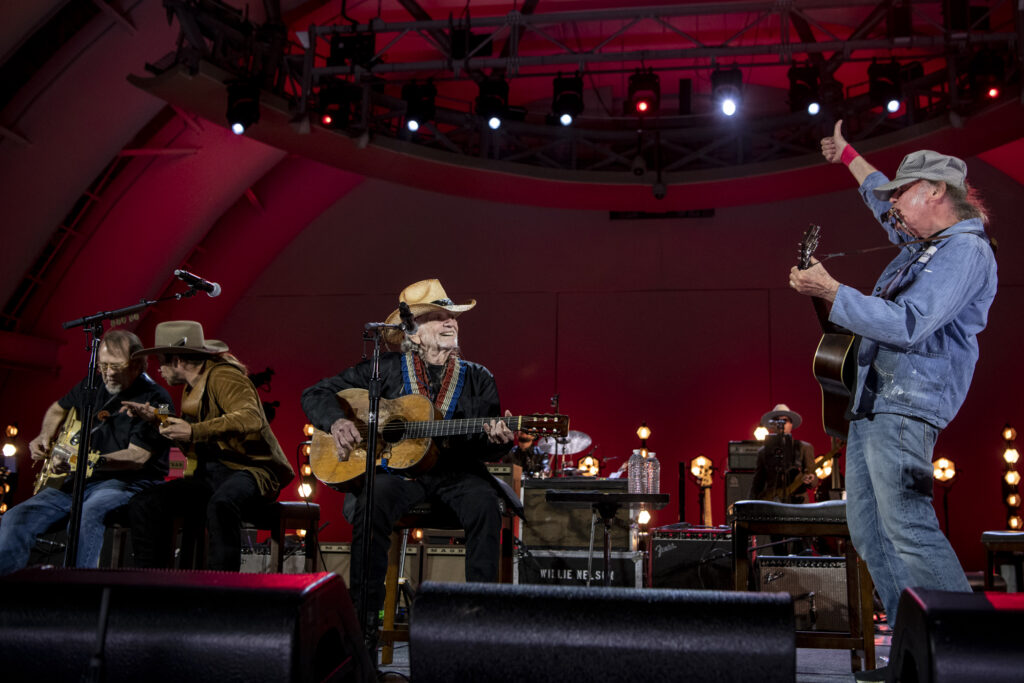 Fellow Texas country music legend Strait offered another noteworthy moment, subbing for the late Waylon Jennings while Nelson joined him for "Pancho and Lefty." Beforehand, they sang 2019's "Sing One With Willie," on which Strait jokingly laments having not been able to perform with Nelson, and vice versa. The pair went back and forth, trading verses and smiles.
Near the end of the show, Nelson called for Snoop Dogg to "come on out here and help me roll one up," and the unlikely duo then performed "Roll Me Up and Smoke Me When I Die," a humorous staple of Nelson's live shows for the past decade. Snoop even suggested they render the track "in the key of smoke," in case anyone in the audience wasn't aware of his and Nelson's mutual fondness for lighting up a joint.
After nearly four hours, the evening wound down with Nelson performing "On the Road Again" and all of the night's guests joining him for the gospel hymn "I'll Fly Away" and a more official rendition of "Happy Birthday." The party continues tonight with a number of the same artists returning to perform different songs, and new, big-name arrivals adding to the fun. Roll 'em up now so you don't have to miss a minute of the action.
Additional reporting by Jonathan Cohen


[ad_2]
Source link