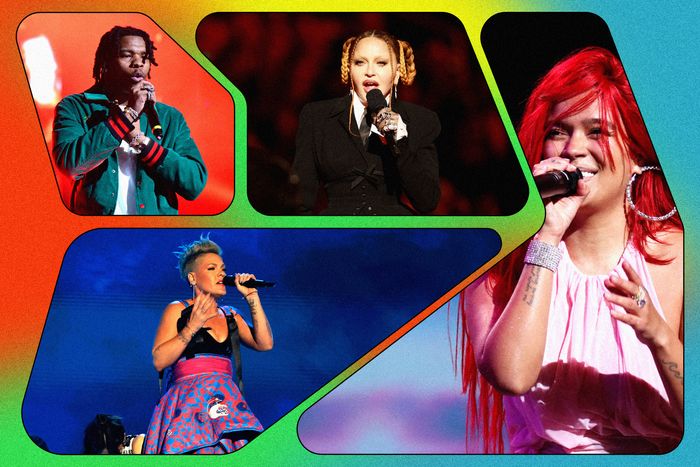 Photo-Illustration: Vulture; Photos: Getty
After the live-music industry inched back to normal in 2021 and 2022, the pendulum has fully swung the other way, with 2023 shaping up to be one of the biggest touring years in recent memory. This summer, both pop stars (Taylor Swift, Beyoncé, Drake) and legends (Madonna, Bruce Springsteen, Dead & Company) are hitting the road for the first time in years — as are dozens of other acts, from country to K-pop to hip-hop.
Yet it's also never been harder to buy concert tickets, due to increased demand and failures of the platforms that sell them. After a catastrophic sale for her Eras tour, involving misallocated presale codes, long queues, and platform malfunctions, Swift sympathized with fans who felt "like they went through several bear attacks" to attend the show. So not only have we compiled the biggest North American tours of the summer — we've also rated them on a scale of 0 to 5 of how many bear attacks you'll feel like you went through to attend. Apologies to your bank account.
Ongoing through July 1
The English goth-rockers have yet to release their long-teased album, Songs of the Lost World, but fear not — at least Robert Smith & Co. are playing a number of their new songs live. It's the Cure's first Stateside run in seven years, since they celebrated their 40th anniversary and were inducted into the Rock & Roll Hall of Fame, so dusting off the back catalogue will be in order, too.
Bear attack index: 1. Thank Smith for his crusade against bots and ticket fees.
Ongoing through July 16
It's a time for celebration for Blink-182: Tom DeLonge rejoined the band, Mark Hoppus beat cancer, and Travis Barker is one of the hottest producers in the biz right now. They're doing what they do best and keeping things light, having returned with the cheeky single "Edging."
Bear attack index: 4. The sale was a Springsteen-level mess thanks to dynamic pricing, and your best day-of resale bets are seats behind the stage.
Ongoing through July 16
The odd coupling of three former Grateful Dead members and John Mayer worked, so much so that Dead & Company have become a jam-band institution over the past eight years. Celebrate it one last time on their 2023 tour, their first sans Dead drummer Bill Kreutzmann.
Bear attack index: 0. Some shows still have tickets available, and others have reasonable resale options.
Ongoing through July 24
Twain's new album, Queen of Me, has the same lively, easygoing spirit of her two-decade-old hits. So the songs should blend right in with her deep catalogue of favorites on her first tour in five years. Twain also brings a slew of musicians carrying her country-pop torch today as openers, including Kelsea Ballerini, Mickey Guyton, and Hailey Whitters.
Bear attack index: 1. These tickets are expensive, but the only thing keeping you from them is your savings.
Ongoing through July 29
The biggest showman in country music is touring one of his most stadium-ready sets, Gettin' Old, after spending last year road-testing its counterpart, Growin' Up. Among the four openers, don't miss soulful rising star Lainey Wilson, who sings with flashes of Dolly Parton and Lee Ann Womack.
Bear attack index: 1. Combs tries to keep his tickets affordable, but that isn't stopping some resellers from marking things up.
Ongoing through July 29
After wrapping a tour with her main gig, Bikini Kill, original riot grrrl Kathleen Hanna is back on the road, this time with her electropunk side project, Le Tigre, for the first time in nearly two decades. Lace up your dancing Chucks.
Bear attack index: 0. You might have to buy resale tickets, but prices are reasonable.
Ongoing through August 9
As difficult as it was to get tickets, Swift wants to make this tour worth it and then some. It's her flashiest show yet: a three-hour, 45-song set overflowing with hits and favorites, along with a rotating murderer's row of openers that includes Muna, Phoebe Bridgers, and HAIM.
Bear attack index: 5. This is the hottest ticket of the summer, and you might have to do some vigilante shit to get one.
Ongoing through August 30
Bryan has never really fit into country music because he makes more than country music. His songs span folk to rock and are tied together by Bryan's poignant storytelling and unabashed passion. That last part especially comes through onstage, as Bryan has become known for his raucous shows.
Bear attack index: 2. The tour sold out, and some fans reported issues with AXS, but Bryan is only allowing tickets to be resold for face value on a special site.
Through October 7
Like it or not, Wallen is one of the most commercially successful country stars in a generation, despite — or maybe because of — his myriad controversies, including being caught on video uttering a racial slur.
Bear attack index: 4. Not only are resale prices high for this largely sold-out tour — you may also have to contend with some changed dates after Wallen postponed six weeks of shows for vocal rest.
Ongoing through September 23
Sheeran is a bit of a contradiction: He's one of the only solo musicians who can sell out stadiums, but he's not known for putting on a big show — just looping guitar parts and percussion himself as a one-man band. So he is giving fans the best of both worlds, performing for the masses on his stadium-focused Mathematics trek while also interspersing more intimate theater shows on the Subtract tour, named for his latest album.
Bear attack index: 2. Some Mathematics tickets are still for sale, and resale options are reasonable. A Subtract ticket, on the other hand, will subtract quite a bit from your bank account.
Ongoing through October 5
A little more than a year after the death of their longtime drummer, Taylor Hawkins, the Foos return for their first shows — and with a new album, But Here We Are, that promises the messy catharsis they're best at. The band has yet to reveal who will now be behind the kit, but you can still count on Dave Grohl & Co. to leave it all on the stage.
Bear attack index: 2. The band is only allowing tickets to be sold at face value (minus festival gigs; those prices are out of their control).
Ongoing
Co-headlining tours by legacy acts are usually a ploy to sell tickets. Joel and Nicks, two legendary singer-songwriters, don't need any help in that regard and don't even have new albums to hawk. They're just here to play the hits.
Bear attack ticket index: 1. They may be expensive, but there are tickets left, and lots of options for resale.
June 1–July 14
For a near-guaranteed good time, go for the overflowing '90s nostalgia. TLC and Shaggy are bringing their share of hits and good vibes, alongside fellow '90s opener En Vogue — and, for good measure, the slightly younger Sean Kingston repping the aughts.
Bear attack ticket index: 0. Tickets are still available!
June 2–25; boygenius tour continues through August 5
The three headliners touring this mini-festival are all experts at packing an emotional punch — from LCD Soundsystem's anthems of dance-floor angst to boygenius's cathartic tearjerkers to Lacy's slippery songs of self-expression. Each artist's style will trickle down their day's lineup too, with other highlights including Jamie xx, Clairo, L'Rain, Bartees Strange, and Fousheé performing. (Bonus: The boygenius tour continues past these 12 dates into August.)
Bear attack ticket index: 1. There are still tickets to most Re:Set dates, but just beware: Three-day tickets are nontransferable.
June 10–July 9
Ready to Be doubles as a great description of Twice's place in music right now: Ready to take over pop as the next worldwide K-pop stars. The nine-piece group are polished performers who make bright, electric pop music. In other words, it's everything you want out of K-pop.
Bear attack index: 3. Take your pick between costly dynamic-priced Platinum tickets or marked-up resale tickets.
June 21-–August 6
Twenty years out from their Fueled by Ramen debut, Take This to Your Grave, Fall Out Boy is back on the pop-punk label with So Much (for) Stardust, their most satisfying album in years. The group's stadium outing is this summer's closest thing to the Warped Tour, with Bring Me the Horizon, Alkaline Trio, New Found Glory, The Academy Is…, and Four Years Strong among the openers.
Bear attack index: 0. Tickets are still available!
June 22–September 30
Known as a rousing live performer, Church is always finding new ways to put on a great show. This run, he's bringing his rip-roaring country hits to outdoor amphitheaters with a stacked rotating cast of supporters including Cody Jinks, Whisky Myers, and Ashley McBryde, among over a dozen others.
Bear attack index: 0. Tickets are still available!
June 25–September 3
LL Cool J and the Roots are taking their lauded Grammys hip-hop tribute on the road. The ambassadors of rap history will be running the show with DJ Jazzy Jeff and DJ Z Trip, but joined by a rotating cast including Queen Latifah, De La Soul, Salt-N-Pepa, Jadakiss, Method Man & Redman, Rakim, and many more.
Bear attack index: 0. Tickets are still available!
June 29–October 7
The last time Drake hit the road five years ago, he brought a massive, glowing stage that was half the spectacle. You may have cooled on his music since then — he's released a lot of filler lately — but this tour is marketed as a retrospective of his past decade. Plus, you'll be able to see one of the best rappers working: his collaborator, 21 Savage.
Bear attack index: 3. Resale tickets are expensive.
July 8–August 19
His forthcoming Austin could be the full-rock turn fans have been clamoring for; Posty said he played guitar on every song. Even if he didn't, you can still count on Post Malone to bring a loose, carefree vibe to the stage, perfect for summer. (Also, count on the show doubling as one of the biggest beer-drinking events of the season outside a brewery festival.)
Bear attack index: Tickets on sale May 19.
July 12–September 27
Beyoncé's first outing since 2018 will be everything you could want from the performer — and more. Of course, it's the ultimate Renaissance dance party, with Bey doing every song off the album. But she's also dusting off deep-cut ballads and throwing in many of her best party-starting tracks. (And yes, there will be visuals.)
Bear attack index: 4. Ticketmaster could have prepared for this one after the Swift snafu, but fans still had to jump through hoops, like signing up for Verified Fan and waiting in long queues. Resale prices are better than Swift's but still pretty crazy right now.
July 15–October 8
Taylor Swift isn't the only one going on an eras tour this summer, with Madonna running through her 40 years of music on her first-ever retrospective trek. The Queen of Pop has been rehearsing for over a month and is working with Jean Paul Gaultier on costumes.
Bear attack index: 2. Resale tickets are expensive — the cheapest options might be behind the stage.
July 21–September 17
This one's for the millennial hip-hop-heads. 50 Cent is taking a break from Starz boardrooms to tour for the 20th anniversary of his breakout album, Get Rich or Die Tryin', doing deep cuts from that era along with all the hits. Hip-hop icon Busta Rhymes serves as opener.
Bear attack index: 0. Many tickets are still available!
July 24–October 9
If you need to be convinced to see the consistently daring pop star that is P!nk live, just watch the music video for "Trustfall," the synth-y title track of her ninth album, in which she performs suspended in the air and flies off a motorcycle. The Summer Carnival tour is her first run through outdoor stadiums; imagine the stunt possibilities.
Bear attack index: 2. Resale tickets are bountiful but expensive.
July 26–September 22
Lil Baby became one of the biggest new rap stars out of Atlanta by striking the perfect balance of melancholy bars and fluid, easygoing trap hits. Now, he's headlining one of the largest hip-hop events of the summer, with openers including the exhilarating, restless Memphis rapper GloRilla.
Bear attack index: 0. Tickets are still available!
August 1–September 10
The Summer Odyssey trek — with guests Japanese Breakfast, Jenny Lewis, and Weyes Blood, depending on the city — is a satisfying night of indie-rock comfort food. Phoenix is touring their slick new album, Alpha Zulu, while Beck seems to be moving back to folk-rock after an electronic detour.
Bear attack index: 0. Tickets are still available!
August 3–September 8
Mañana Será Bonito is the perfect name for the breezy and bright latest release by reggaeton star Karol G. It's a record that could conquer this season in the same way Bad Bunny's Un Verano Sin Ti did in 2022 — so, of course, a summer tour is in order.
Bear attack index: 1. Expensive tickets are still for sale, but you might have to travel — she's only playing nine U.S. dates plus Lollapalooza.
August 4-November 12
The thrash-metal titans sound as immediate as ever on 72 Seasons, their 11th studio album, which is filled with riffs and solos that will rip even harder live. They'll also be playing to a whole new generation of Metallica fans, after a plum placement for signature song "Master of Puppets" in Stranger Things.
Bear attack index: 1. Just beware of Platinum tickets.
August 6–October 16
Tired of seeing that Capital One commercial with Slash? Go see him play the iconic "Sweet Child O' Mine" riff live with Duff McKagan and Axl Rose instead, on Guns N' Roses' first post-pandemic outing. The band has allegedly been recording new music and tinkering with Chinese Democracy–era songs, but as fans know, it could be years more before those make it to the stage.
Bear attack index: 0. Tickets are still available!
August 9–December 10
Tickets were exorbitantly expensive and went quickly, but sorry — you have to see Bruce Springsteen & the E Street Band at least once. The rocker is on the road with his band for the first time since 2017, playing a predictable marathon show augmented with recent cuts off his poignant 2020 album, Letter to You, and last year's soul-covers collection, Only the Strong Survive.
Bear attack index: 4. This was the original bear attack — but if you check Stubhub right before the show, you might be surprised.
August 11–26
On the heels of their history-making headlining set at Coachella, Blackpink is extending their tour in the U.S. for five dates. If the desert show was any indication, expect solo songs from all the girls, stunning lights, and showstopping choreography.
Bear attack index: 3. These tickets are not cheap.
August 25–October 7
The Arctic Monkeys kept going down their loungy, groovy, slightly psychedelic path on last year's The Car, their first album in four years. Live, though, they're much more energetic, with singer Alex Turner turning them into one of indie rock's best performers.
Bear attack index: 3. Take your pick between resale and Platinum tickets.
Source link