Miley Cyrus has claimed that she does not plan on going on any more tours in the near future. The 'Can't Be Tamed' singer said that she came to the decision after her global Bangerz tour in 2014 concluded. The 'Flowers' singer made the announcement in a recent interview.
ADVERTISEMENT
"It's been a minute," Cyrus said in her British Vogue cover story. "After the last [headline arena] show I did [in 2014], I kind of looked at it as more of a question. And I can't." "Not only 'can't,'" she added, "Because can't is your capability, but my desire. Do I want to live my life for anyone else's pleasure or fulfillment other than my own?"
READ MORE
'They come over': Miley Cyrus reveals she only hangs out with gay men
'Worst that can happen is I leave': Miley Cyrus reveals she met drummer BF Maxx Morando on blind date
'I love performing but pretty much for them'
Cyrus also said in the interview that she likes to perform for her friends more than she does for her fans. "I love performing but pretty much for them," she said. "Like singing for hundreds of thousands of people isn't really the thing that I love. There's no connection. There's no safety," she said. She added, "It's also not natural. It's so isolating because if you're in front of 100,000 people then you are alone."
ADVERTISEMENT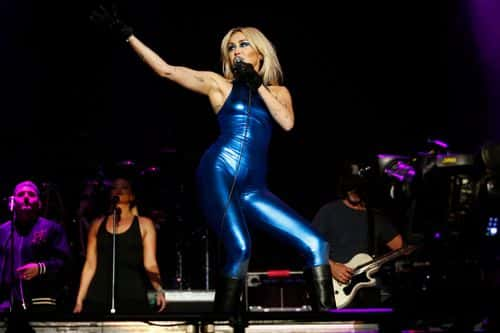 Cyrus was famous for her tours, where she would perform for hours and take requests. She performed 70 shows across North America, Europe, Latin America, Australia, and New Zealand for the Bangerz tour, which ran from February to October 2014. Her tours did not stop after that, but they took place on a significantly smaller scale.
ADVERTISEMENT
For instance, Cyrus played just eight concerts across the US and Canada for her 2015 Milky Milky Milk Tour over a month. In 2022, her Attention tour comprised only five shows on the US and South America festival circuit.
'I would still purchase her music'
Social media users appreciated Cyrus' plan to not tour anyone, with one user commenting on Facebook, "I'm glad that Flowers is a big hit for her. I hear it everywhere I go. Good for her, she does what works for her." "She's setting boundaries. Kudos to her. Maybe there would have been less artists who died young if they had been taught to set boundaries too," another said. One said, "Good for her. Now she can retire and enjoy that money she work hard for. If she lives modestly she can make it last or invest wisely."
ADVERTISEMENT
"She's been working since she was a child. It's not for everyone. She can do what she wants," one user said, while another added, "I imagine it is draining to be on the road all the time …the days would melt together and not much.time for a personal life." One fan commented, "She has that right No one should have to go on tours , She has a beautiful voice and I would still purchase her music ."
This article contains remarks made on the Internet by individual people and organizations. MEAWW cannot confirm them independently and does not support claims or opinions being made online.