[ad_1]
Between DannyLux in downtown Los Angeles and Karol G at the Rose Bowl, you're in for a weekend full of new and exciting music. If that's not enough, take your pick from two back-to-back lucha libre events. Want to shop and eat local? We've got ideas for mercados with a vibe and a fundraiser for Lahaina, Maui. Whatever you decide to do, this weekend será bonito!
Music
DannyLux album release concert: If you missed DannyLux at the Coachella Valley Music and Arts Festival or any of his other shows this year, you're in luck. The moody singer known for fusing regional Mexican sierreño sounds with alternative Latin rock will offer a free concert in downtown L.A. to celebrate the release of his new album, DLUX. The event, part of the Grand Performances summer concert series, is outdoors and open to all ages. Make sure to get there early, especially if you plan to ride the Angels Flight funicular.
When: Friday, 6 to 10 p.m.
Where: California Plaza, 350 S. Grand Ave.
Los Angeles, CA 90071
Admission: The concert is free but RSVP's are highly encouraged
Quetzal turns 30: For decades, art and activism has been at the root of East L.A. Chicano rock group Quetzal. Led by Quetzal Flores and Martha Gonzalez, the Grammy Award-winning band tells social, cultural and political stories of their community. A celebration to mark their 30th anniversary will feature live musical performances, special guests, food and drinks, and art installations by altar maestras Ofelia Esparza and Rosana Esparza-Aherns.
When: Saturday, 6 p.m.
Where: La Plaza de Cultural y Artes, 501 N. Main St.
Los Angeles, CA 90012
Admission: This is a free event.
Karol G's Mañana Será Bonito tour: Curate el corazón with La Bichota— not one, but two days this weekend— as she embarks on her biggest local show yet at the Rose Bowl Stadium in Pasadena. The Colombian reggaetón star will be performing her greatest hits and songs from her most recently released album, "Mañana Será Bonito (Bichota Season)."
When: Friday and Saturday, 7 p.m.
Where: Rose Bowl Stadium, 1001 Rose Bowl Drive
Pasadena, CA 91103
Admission: Tickets are still available and start at $185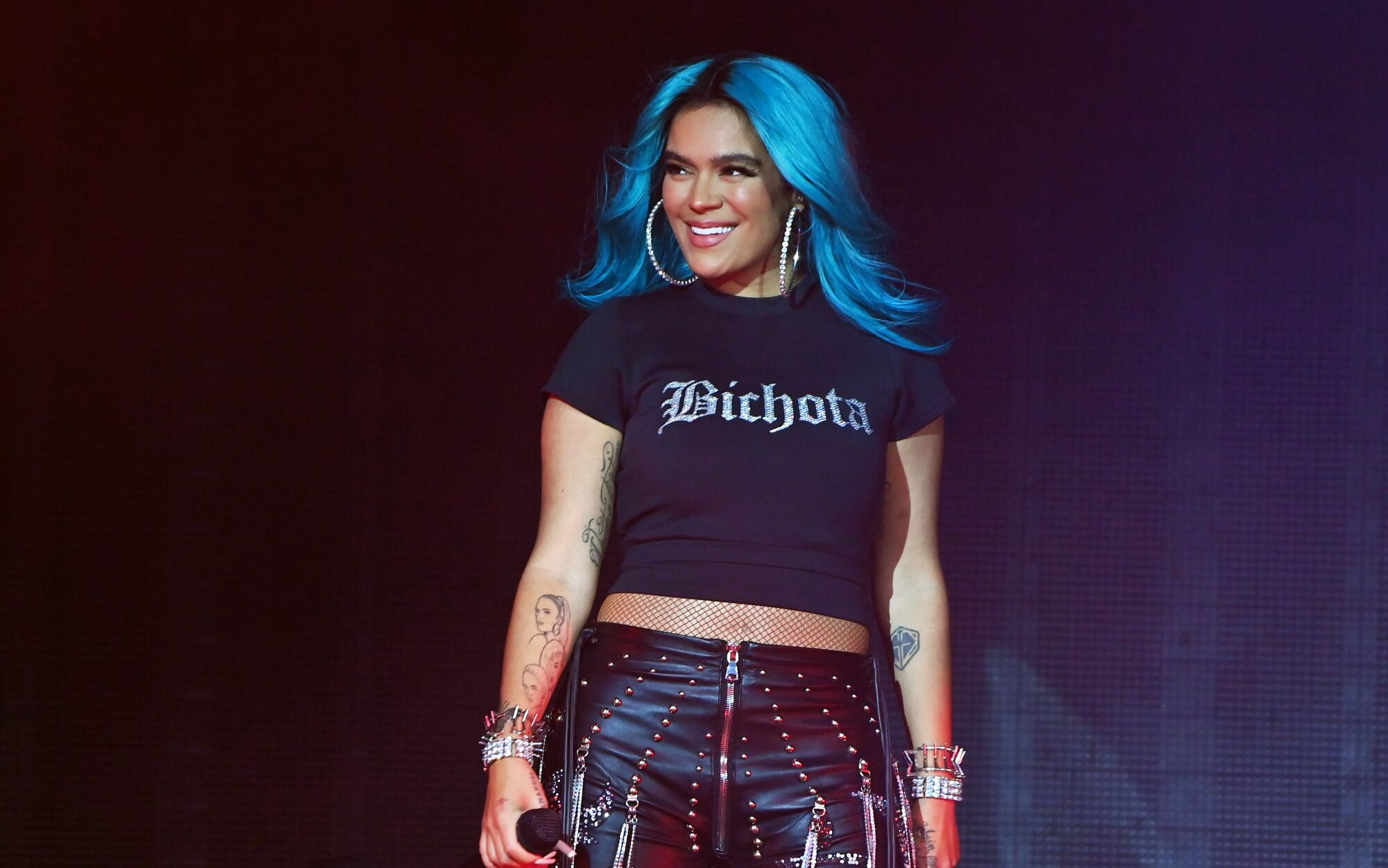 Eliades Ochoa and La Marisoul: The pair of Grammy Award winners will headline the "Live at the Music Center" event this week with a free concert on the Jerry Moss Plaza in downtown Los Angeles. Ochoa, who was part of the legendary Cuban group Buena Vista Social Club, will perform the traditional music of the Cuban countryside. La Marisoul, lead vocalist of L.A. band La Santa Cecilia, will perform select songs with the Love Notes Orchestra.
When: Saturday, 8 p.m.
Where: Jerry Moss Plaza, 135 N. Grand Avenue
Los Angeles, CA 90012
Admission: This is a free event.
Los Tucanes de Tijuana and La Original Banda El Limón: Two of the most popular bands out of Mexico will perform together on the same stage to captivate fans of regional Mexican music. Mario Quintero and his Tucanes will play their hits, including party favorite "La Chona," while members of La Original Banda El Limón will surely get their fans up and moving to their deep catalog of hits.
When: Friday, 8 p.m.
Where: The Pacific Amphitheatre, 100 Fair Drive, Costa Mesa, CA 92626
Admission: Tickets are $80; full details here.
Lucha Libre
Lucha VaVoom's Annual Summer Spectacular: Into lucha libre? Burlesque? Aerial? Comedy? Come see it all and more at Lucha Vavoom's Annual Summer Spectacular El Sol de Los Angeles, returning to downtown L.A.'s Mayan Theatre. The event will also feature a unique collaboration with Warner Bros. Pictures' upcoming film "Blue Beetle," where fans will be able to see special footage, and a wrestler inspired by the DC superhero himself in the main match of the night.
When: Friday, 8 p.m.
Where: Mayan Theatre, 1038 S. Hill St.
Los Angeles, CA 90015
Admission: Tickets start at $45. This event is 21and over.
La Bulla, the Lucha Libre Festival: If one night of exciting matches isn't enough, check out the ninth annual La Bulla, the Lucha Libre Music and Arts festival. The event will be hosted by actor Fabian Alomar of "This Fool" and "Flamin' Hot." There will be two stages with live musical performances by Lizzy G and El Conjunto Nueva Ola, and mixes by DJ Sloe Poke, Sizzle Fantastic and OSKR. Don't miss the art show curated by Eddie Donaldson and fashion show By Thrifs.
When: Saturday, 7 p.m.
Where: Plaza De La Raza, 3540 N. Mission Road
Los Angeles, CA 90031
Admission: Tickets start at $20. This event is 21 and over.
Food
East Los Musubi – Lahaina relief: Adam Martínez and Doreen Nakama-Martinez have been serving up spam Musubi, a staple snack food in Hawaii, for several years across L.A. But after wildfires devastated Lahaina in Maui, the couple, who are Mexican and Hawaiian-born of Japanese decent, began planning fundraising efforts. This Sunday, East Los Musubi will join Aguas Locas' food pop-up in Highland Park to support family and friends affected by the fires. Nakama will not only share her love for food and her famous Hot Cheeto Musubi, if you ask, she might also let you in on how her grandparents made a blended culture work.
When: Sunday, 2 to 6 p.m.
Where: Shop Mi Vida, 5159 York Blvd.
Los Angeles, CA
Admission: Free to attend; vendor prices will vary.
Chismosa Brunch: Bring your fellow chismosa/o/x for a day full of good vibes, food and chisme. Common Space Brewery and Chismosa Cafe will host a Chismosa Brunch fest with food vendors, coffee tastings, baked goods, music and a tiendita. Start with a cafecito by Picaresca Barra de Cafe or pair a michelada with pupusas by La Casa de Pupusas. For dessert, how about a pan from Mija's Bakeshop?
When: Saturday, 12 p.m. to 12 a.m.
Where: Common Space Brewery, 3411 W El Segundo Blvd,
Hawthorne, CA 90250
Admission: Free to attend; vendor prices will vary.
Shop local
Queer Mercado: Held the third Saturday of each month, Queer Mercado is a Latino marketplace where you can support local LGBTQ+ businesses. The lively event often features queer DJs, drag shows, local artisans, food and youth performances. This weekend, catch a performance by Cello Azul, who uses his signature blue electric cello to pay homage to traditional cumbia.
When: Saturday, 10 a.m. to 4 p.m.
Where: East L.A. Civic Center, 4801 E 3rd St., Los Angeles, CA 90022
Admission: This is a free event.
Mid-City Mercado: This pop-up extravaganza brings more than 20 POC vendors to L.A.'s Mid-City each month. Held in a parking lot shared by Mariscos Marias restaurant and Persona the Shop boutique, the family-run mercado is all about highlighting community. This weekend's vendors include Ghetto Rodeo, Killers Closet, Sweet Peony and A Peace of the Universe. Catch DJ sets by TheHomieOlme and lexaceli.
When: Saturday, 3 to 9 p.m.
Where: 5640 W Adams Blvd., Los Angeles CA 90016
Admission: This is a free event.
Summer Block Party: Want to shop small but also looking for the ultimate summer vibe? Por Vida Los Angeles and Los Angeles Nights will host a summer block party with more than 60 vendors, musical acts, lowriders, food and drinks, and a photo and art gallery. Check out the clothing and get a tattoo, piercing or toothgem while you're at it.
When: Saturday, 4 to 10:30 p.m.
Where: 339 N. Mission Road, Los Angeles, CA 90033
Admision: This event is free before 6 p.m., $1 dollar after.
L.A. is too big for us to know about all the events happening this weekend. If we missed something you think we should know about, let us know.
De Los community editor Jessica Perez and L.A. Times en español staff writer Tommy Calle contributed to this story.


[ad_2]
Source link