The Bachelorette
alum
Mike Johnson
has revealed he is exclusively dating someone and the relationship is pretty serious.
Mike confirmed he is "absolutely" dating someone during the December 21 episode of the "Click Bait with Bachelor Nation" podcast co-hosted by Joe Amabile, Natasha Parker, and Gabby Windey.
"I won't say her name," Mike said.
RELATED LINK: 'THE BACHELOR' FRANCHISE COUPLES NOW: WHO IS STILL TOGETHER?? (PHOTOS)
Mike explained that he and this mystery woman met after his friend "tried to holla at her" first.
"I stay home most of the time and she was out and he was out. He tried to holla at her and then she stood up and he was like, 'Yeah, she's too tall for me.' But she said that he was a really nice guy, and she gave him her IG or whatever to give to me — and then I slid into her DMs," Mike shared.
"He's actually my homie that got me on [The Bachelorette]."
Mike clarified how his friend "loves tall women" but this woman in particular wasn't interested in dating a shorter guy.
"He actually hyped me up, he was definitely a great hype man," Mike shared.
"He said I just came back from being in… Mexico and Columbia, and it was a lot of connections, so he just set that up for me. He threw it down the alley, and of course I'm going to dunk it."
When asked how long they've been seeing each other, Mike said, "I can't believe I'm talking about this stuff… We've been talking for like six months and we've been exclusive for almost two [months]."
Mike boasted about how he and this woman are "even more than exclusive," and Gabby chimed in, "It's been six months?! You guys are basically married!"
Mike, however, said he's going to spend Christmas with another important lady in his life.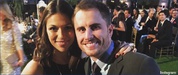 RELATED LINK: 'THE BACHELORETTE' COUPLES NOW
"My birthday is two days after Christmas and I'm going to be home with my mom for Christmas. So I guess I avoided that question [on whether I'm spending it with my girlfriend], and I'm not going to go back to it," Mike teased.
"And probably for my birthday and New Year's, we'll definitely share that together."
Mike went on to explain why he's trying to keep his new relationship so private.
"I've dated post-show and no one knew about it, because I wouldn't have even allowed that [dating] question. I was always like, 'Next question,'" Mike noted with a laugh.
"It's almost like you're damned if you do, and you're damned if you don't in this situation. People just can't be happy [for you]. It's like, 'Damn!'"
RELATED LINK: 'THE BACHELORETTE' COUPLES NOW: WHOM DID 'THE BACHELORETTE' STARS AND THEIR BACHELOR PICKS ULTIMATELY END UP WITH?! (PHOTOS)  
Mike said it's "hard" to share something so personal to him because people online judge, criticize and say mean things.
"I want to protect her," Mike acknowledged. "But at the same time, it's definitely going to happen because I'm happy. It's on no one else's dime."
Mike, who currently lives in Austin, TX, refused to disclose if his girlfriend is a member of Bachelor Nation. But he insisted he's not trying to be "secretive" about his romance; he just likes to keep it as private as possible.
Back in September, Mike shared how he was dating former The Real Housewives of Orange County star Meghan King.
Based on Mike's hints about his current girlfriend, however, it sounds like his romance with Meghan may have fizzled out.
Mike and Meghan went public with their romance when they walked the red carpet together at the 2022 iHeartRadio Music Festival in Las Vegas on September 23.
"I mean, we're — I'm having a blast. And I'm so happy to be here," Meghan, 38, told Entertainment Tonight at the time, adding how he and Mike just had their first date the night prior. "We're on our second date."
Meghan revealed how she and Mike had been "set up" by her podcast team.
"I said, 'If I'm going to this festival, I need a hot date. And who should I go with?'" she elaborated. "Listen to this, I've been asking them to set me up with somebody for two years, and it takes a festival for them? But hey, I got a good one."
Meghan then gushed about the Season 15 The Bachelorette alum and what she's attracted to.
"I mean, do you see him? Besides the obvious, Mike, is so kind and genuine. And he's just an easy person to talk to you. We connected very quickly, easily," Meghan shared.
Mike agreed and also praised Meghan for being able to get him out of his shell.
"I feel more comfortable when I'm around her, and so I love that. It's helped me out a lot. I think she's gonna teach me some things, so, I like that too," Mike said.
RELATED LINK: 'THE BACHELOR' COUPLES NOW: WHO DID 'THE BACHELOR' STARS AND THEIR BACHELORETTE PICKS ACTUALLY END UP MARRYING? (PHOTOS)
Meghan told ET her dating life was "very involved" with "lots of sex" — which prompted Mike to bashfully pull away from the camera laughing — and "lots of drama."
Mike and Meghan sparked dating rumors when they were spotted at a Las Vegas strip club together on September 22.
"They acted like no one else was around them. Meghan was sitting on Mike's lap for the majority of the night. He was very touchy-feely with her," a source told Us Weekly, noting how the pair ultimately left the establishment holding hands.
An insider also told E! News about how Mike and Meghan were "all over each other" at the club and "seemed very into each other."
Meghan, however, suggested her romance with Mike wasn't serious, when she wrote on Instagram Stories, "We are just having fun."
After failing to win Hannah Brown's heart on The Bachelorette's fifteenth season and missing out on a hometown date, Mike was rumored to be a frontrunner to star on The Bachelor's 24th season.
Mike had a fling with Sydney Lotuaco on Bachelor in Paradise in 2019, but they called it quits about halfway through the season and Mike left Mexico single and wanting love.
The Bachelor position for 2020, however, ultimately went to Peter Weber, and Mike went on to have a brief one-month romance with singer Demi Lovato.
"Demi and Mike's fling has fizzled out and they aren't seeing each other or texting like they were before. Nothing happened, it just ran its course," a source told E! News in October 2019.
For Meghan's part, she was married to former MLB star, Jim Edmonds. The couple reportedly broke up in 2019 after five years of marriage and a cheating scandal. Meghan and Jim had three children together: a daughter Aspen and twin boys, Hart and Hayes.
Meghan married for the second time in 2021. She and attorney Cuffe Owens, the nephew of President Joe Biden, reportedly had a whirlwind relationship after meeting on a dating app.
Meghan and Cuffe tied the knot in October 2021 after just a few months of knowing each other, and they announced their split two months later.
Meghan went on to get her second marriage annulled, and she admitted to ET her past relationship failures are "embarrassing" and "really humiliating."
Meghan admitted being famous and dating in the public eye is hard.
"The scrutiny is intense, and it's personal, and it's emotionally charged. To be able to slough that off is a real skill that I'm proud to say that I do possess," Meghan explained.
"I don't love it and it does affect me — and I'd be lying to say that it doesn't affect me at all — but for the most part, I feel very confident in who I am in my own sense of self."
RELATED LINK: 'THE BACHELOR' FRANCHISE COUPLES NOW: WHO IS STILL TOGETHER?? (PHOTOS)
Interested in more The Bachelor news? Join our The Bachelor Facebook Group!
About The Author:
Elizabeth Kwiatkowski
Elizabeth Kwiatkowski is Associate Editor of Reality TV World and has been covering the reality TV genre for more than a decade.