NEWS | FEATURES | PREVIEWS | EVENTS
originally published: 11/17/2022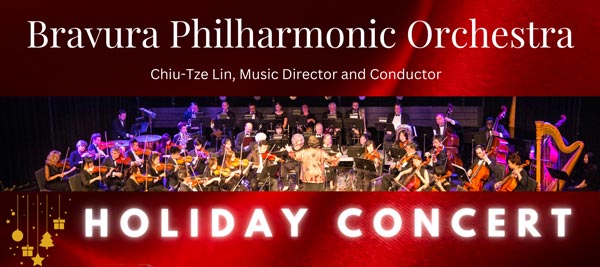 (PLAINSBORO, NJ) — The Bravura Philharmonic Orchestra, American Prize Award recipient for orchestral performance, will present a holiday concert on Sunday, December 4th at 7:00pm.  The concert features Chiu-Ling Lin on piano and takes place at the Princeton Alliance Church in Plainsboro.
The program also includes a Holiday Audience Sing-Along; Handel Royal Fireworks; Prokofiev Lieutenant Kije Suite; and Christmas and Hannukah music.
General admission tickets are $20 in advance and $25 at the door. Tickets are $22 for students/seniors and VIP premium seating is avaiable for $40.  Tickets are available for purchase online.
Princeton Alliance Church is located at 20 Schalks Crossing Road in Plainsboro, New Jersey, at the intersection of Scudders Mill Road and Schalks Crossing Road.
"… A luminous performance with tremendous energy level, … good orchestral sound" is what the jurors of the American Prize Award wrote about the Bravura Philharmonic Orchestra. The orchestra, in its 13th season, has been honored with 2nd place in the American Prize Award competition in Orchestral Performance in the Community Orchestral Division. The orchestra was founded by and is under the direction of the internationally renowned conductor and Steinway Artist Chiu-Tze Lin. It consists of professional musicians, gifted amateurs, and outstanding young music students. A salient feature of the ensemble is its diverse repertoire, which includes timeless classics, popular Broadway arrangements, and multi-cultural music. The Bravura Philharmonic Orchestra also includes chamber groups, such as its strings ensemble, wind ensemble, brass quintet, and string quartet. The orchestra, together with its ensembles, is available for musical community services. Since the founding of the orchestra thirteen years ago, the ensembles of the orchestra have performed for dignitaries such as former Secretary of State Hillary Clinton, and at the Luminaria Ceremony of the American Cancer Society Relay for Life, fundraising events for Multiple Sclerosis Awareness, and various celebrations and banquets. The orchestra has also been invited to perform in concert series sponsored other arts and civic organizations. 
Advertise with New Jersey Stage for $50-$100 per month, click here for info
---
Advertise with New Jersey Stage for $50-$100 per month, click here for info
---
Source link